After violence, Kenya tourism struggles
Postelection clashes have scared off visitors, crippling an industry vital to East Africa's strongest economy.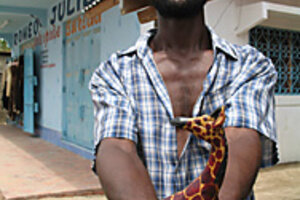 Rob Crilly
Hotels are empty up and down the Kenyan coast after ethnic clashes killed more than 1,500 people and forced more than 600,000 to flee their homes in the wake of the disputed Dec. 27 presidential election.
Inland, the elephants, lions, and giraffes have the country's game reserves to themselves as safari companies divert to neighboring Tanzania.
After years of boom, East Africa's dominant economy seems headed for a fall. Tea companies are struggling to get bushes harvested and farm workers are stranded far from their fields.
Professor Terry Ryan, adviser to Kenya's Central Bank, estimates a growth rate of 2 percent to 4.5 percent in the near future, after five years of expansion at nearly 7 percent.
"Every day that we delay the restoration of normality we are moving toward the lower figure," he says.
Last week, opposition leader Raila Odinga agreed to a power-sharing deal with President Mwai Kibaki which will see Mr. Odinga installed in the new position of prime minister.
But former United Nations chief Kofi Annan, who brokered the deal, has warned it will take much longer to solve the deep-seated ethnic rifts exposed by the flawed election.
And for now the economy is tanking, sending ripples through the region.
---