Could Zimbabwe vote oust Mugabe?
Zimbabweans head to the polls Saturday amid suspicion that President Robert Mugabe may rig the election to award himself yet another term.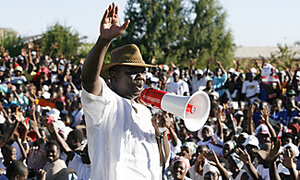 Howard Burditt/Reuters
Few parts of Zimbabwe would like to see the end of President Robert Mugabe's regime more than Matabeleland.
Ethnic repression against the Zulu-speaking Ndibele tribes here killed at least 20,000 in the mid-1980s – a sign of just how far Mr. Mugabe would go to hold onto power.
Small wonder then that the people of Matabeleland – and especially in the quiet regional capital, Bulawayo – view Saturday's presidential elections with a mix of hope and realism, and the knowledge that Mugabe will not go without a fight.
"If Mugabe wins, we'll have economic disaster in Zimbabwe, complete disaster," says Gordon Moyo, director of Bulawayo Agenda, a democracy-building nonprofit in Bulawayo.
"If [former finance minister Simba Makoni] wins, we'll have unrest, because Mugabe will fight. Either way, civil society should continue to press for our rights, and join hands with other democratic forces to make sure this government is delegitimized. Democracy is not final until it respects the will of the people," he says.
Zimbabwe has never been so close to economic collapse – and oddly, to political renewal – as it will be this month. An inflation rate of 100,000 percent, the result of socialist land redistribution, mismanagement, corruption, and the withdrawal of Western financial support, has created unspeakable hardship for the Zimbabwean people.
---