Mugabe: reaching out with resignation deal?
Zimbabwe's main opposition leader and President Mugabe's government deny behind-the-scenes talks about a power-sharing deal in the wake of Saturday's elections.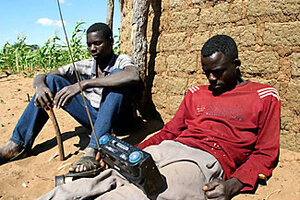 Emmanuel Chitat/Reuters
Johannesburg, South Africa; and Harare, Zimbabwe
Behind-the-scenes negotiations between Zimbabwe's ruling party and the main opposition party of Morgan Tsvangirai are under way in the wake of Saturday's elections, according to several sources familiar with the discussions.
Under a proposed deal, President Robert Mugabe would step down, allowing his ruling ZANU-PF party and the opposition Movement for Democratic Change (MDC) to share power in a government of national unity, a senior MDC official confirmed Tuesday evening.
The official said that military chiefs, who are allied to Mr. Mugabe and recently said they would not salute Mr. Tsvangirai if he was elected president, had approached the opposition with the proposal of a national unity government.
"Such overtures have been made, but they are still in their infancy. Our leader [Tsvangirai] is skeptical about Mugabe's overtures because the old man is a skimmer and is cunning," said the official, who spoke on condition of anonymity because he was not authorized to speak to the press.
A US State Department official said the talks followed projections showing Tsvangirai would beat Mugabe in the election but fall short of the 51 percent of votes needed to avoid a runoff, according to Reuters.
Both Mugabe's government and Tsvangirai, however, denied Tuesday night that such talks are taking place.
If, in fact, Mugabe is negotiating his way out of office, it will be a sign of how far both the 84-year-old liberation leader and his once-powerful party have fallen.
---