Zimbabwe elections: Will the world stop Mugabe?
President Robert Mugabe is 'preparing for war,' according to the main opposition leader.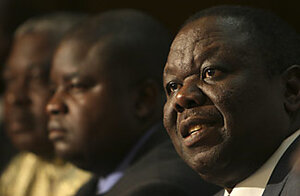 Tsvangirayi Mukwazhi/Ap
Johannesburg, South Africa; and Harare, Zimbabwe
With President Robert Mugabe taking the unusual step of claiming electoral "errors and miscalculations" by his own handpicked Zimbabwe Electoral Commission, the stage now is set for the 84-year-old leader to challenge his party's loss of its parliamentary majority and to claim an outright presidential victory in the March 29 elections.
Strong-armed tactics by Mr. Mugabe's police, threats of violence by his loyal armed militias, and an unwillingness to concede defeat in what African observers claim was a "free and fair" election are now putting the international community into a difficult spot. If Mugabe refuses to give up power, what will or can the outside world do?
"I think besides the [United Nations], the region – including members of the Southern African Development Community – is going to take an increasing role in Zimbabwe," says Chris Maroleng, a Zimbabwe expert at the Institute for Security Studies in Tshwane, as Pretoria, South Africa is now called. "[Mugabe] has lost the plot. He has always given the seeming appearance of legality in the past, but with claiming that his own ZEC has rigged the elections against him, he's overstepped himself."
---
Follow Stories Like This
Get the Monitor stories you care about delivered to your inbox.