How one Liberian helps others speak out
Aloysius Toe has spent – and risked – his life fighting against human rights abuses.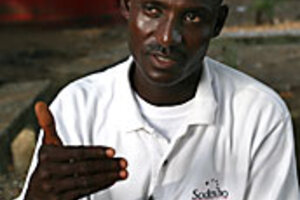 Tugela Ridley
Aloysius Toe's wife and children were crying, huddled together as a gang of armed men beat at the front door threatening to kill him. He could not call the police because the armed men were the police. Mr. Toe's crime was speaking out against Charles Taylor's violent regime in Liberia.
On that October night in 2002, Toe listened as 19 policemen kicked in the door and smashed up his house looking for him. When they did not find him, the officers dragged his wife into the street, threw her in the back of a truck and sped off.
Toe was not there, but he heard it all because she had called him and left the phone switched on so that he would know.
Toe lived through this and other nightmares in his fight for human rights in Liberia under the barbaric rule of Mr. Taylor, the former president now on trial in The Hague for war crimes.
During the 1998-2002 civil war, Toe was arrested and tortured. He fled into exile twice and was locked up without trial twice, but each time he continued to defend basic human rights.
As head of a coalition of activists, Toe used to remind himself that "If I falter the whole movement is going to die, and the lives of those we risked our lives for would be put at risk."
Not content simply to speak out himself, Toe encouraged others. He helped start more than 100 human rights clubs in schools and established a network of 245 volunteers recording and reporting cases of abuse across the country.
---