Attacks on foreigners spread in S. Africa
African immigrants may soon be forced to fight back against attacks by South African mobs.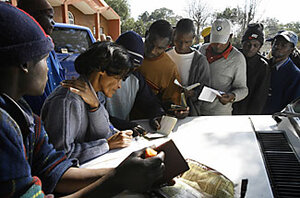 Jerome Delay/AP
Johannesburg, South Africa
South Africa's violence against foreigners took a turn for the worse on Wednesday as beleaguered foreign immigrants organized themselves to fight back.
In the Johannesburg township of Tshepisong, Mozambicans and Zimbabwean immigrants fled from gangs of South African residents, while immigrants in other neighborhoods threatened to resist attacks.
"If it means I have to fight back to protect my wife and children and property, I will," a Zimbabwean immigrant named Madalala Ndlovu told the Pretoria Times. "If the police can't stop these thugs, then I will. I'll kill them if I have to."
With community leaders urging against an escalation of violence, the South African government announced that it would start deploying military fixed-wing aircraft and armed personnel carriers to back up police, as the violence entered its 10th day.
"The organization of foreigners is to be expected, given the police's extreme difficulty in getting the violence under control," says Frans Kronje, deputy chairman of the South African Institute of Race Relations (SAIRR), a liberal think tank in Johannesburg.
"Foreigners have three options," says Mr. Kronje. "To go back to Zimbabwe, which is not a nicer option than what they already face here. To get into one of the informal camps around police stations, churches, and community centers, which are already estimated to have 13,000 displaced people in the Johannesburg area alone. Or they can organize to defend themselves, which then makes it much more difficult for the police to control."
---