UN aid debate: Give cash, not food?
The United Nations World Food Program meets Tuesday in Rome to discuss the global food crisis.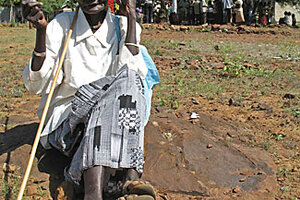 Rob Crilly
The hungry people of Kenya's Kerio Valley had waited since dawn to be fed. They were not waiting for the thunder of aid trucks or the distant rumble of a cargo plane signaling a food drop.
Instead, they were waiting for the beep of their mobile phones and a text message that they could use to collect cash to buy local food. It's part of a trial using the latest technology to streamline the aid process in a way that does not distort local markets.
"I have got it, I have got it," screamed one woman holding her cellphone aloft.
Tuesday, world leaders will begin talks in Rome on ending a global food crisis that has provoked riots and put 100 million people at risk of hunger. The Kenya program reflects a growing shift among aid groups.
In a major endorsement of the approach, the UN's World Food Program, the biggest non-governmental distributor of food, is expected to announce later this month that it will begin distributing cash and vouchers instead of food in some areas, according to WFP sources.
In a little noticed address recently to British members of Parliament, Josette Sheeran, the WFP's executive director, described the plan as a "revolution" in food aid.
---