South Africa's president calls attacks on immigrants shameful
President Mbeki says end 'attacks against Africans' and welcome them back home. But a police raid on a transit camp sends another message.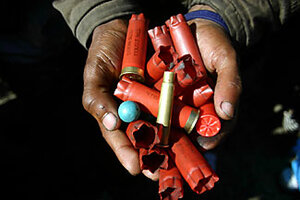 Scott Baldauf
More than three weeks after beginning, South Africa's xenophobic attacks continue as the nation's leaders urge communities to begin bringing African immigrants from other countries back into their communities.
Just days after a Mozambican man was burnt alive in the township of Atteridgeville, and police raided a camp near the nation's capital, swinging clubs and firing rubber bullets and injuring dozens of the nearly 1,500 Somalis, Ethiopians, and Congolese inside, President Thabo Mbeki made a renewed appeal for the violence to stop. More than 62 have died since the violence began.
Speaking at a ceremony commemorating Youth Day on Monday, Mr. Mbeki praised the past efforts of South African youth in the liberation struggle that ended the racist system of apartheid. But, he added, "at the same time, we must admit that all of us have been humiliated and shamed by the small number of young people who took it upon themselves to lead criminal attacks against the Africans living among us."
Kgalema Motlanthe, the ruling African National Congress party's No. 2, reinforced the message at a speech in Soweto: "The current situations suggest that we are sinking into a flood."
While few predicted the anti-immigrant attacks, the warning signs have been present for years. Attacks against Somali shopkeepers alone have led to hundreds of deaths in sporadic violence since 1994, say Somali groups. The government doesn't track attacks based on national origin.
---