Sierra Leone's 'family talk' heals scars of war
Inspired by childhood memories of community rituals, human rights activist John Caulker treks across Sierra Leone to reconcile war crime perpetrators and their victims.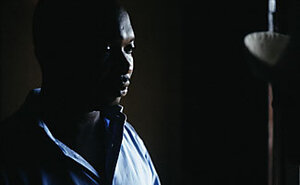 Henry Jacobson
Kailahun District, Sierra Leone
John Caulker might know the rough, red-rock roads of rural Sierra Leone better than he knows the hallways of his own office in Freetown, the seaside capital.
There, streets are crowded equally by people and piles of trash – a sign, in its own unintentional way, of abundance. Kids hawk candies, shammies, pirated DVDs, and cellphone chargers. They tease you, in the heat, with cold Cokes and baggies of drinking water tied tight at the top. An hour in traffic – a rather common way to pass an hour in Freetown – and you can do a day's shopping from your car window.
Here, to the east, in the villages where Mr. Caulker has done human rights work for 10 years, neither goods nor income are disposable. Every kid's belly seems to sag for lack of food. All that can be found for sale are staples – cassava, mangos, rice. Then there are the signs of the brutal, decade-long civil war: Abandoned houses, some clearly shelled, stand apathetically along the road. In one village, a rusting tank, its cannons sometimes used as makeshift laundry lines, sits at a crossroad, inscribed hopefully, "For Sale!"
The farther Caulker goes on his cross-country trips, the farther away Freetown seems – geographically, existentially. In countries recovering from war, capitals have the edge. They're the places where political power is reestablished, aid projects are launched, and donor money flows. It's in the capitals that the "postwar reconstruction" agenda, engineered in good part abroad, begins.
"It's like they have this postconflict checklist: Truth commission, tick. Military assistance, tick. Trials, tick. Next. Go on to the next country," Caulker says. "But the people have answers. They have their cultural values."
---