A former rebel faces the Sierra Leonean farmer he maimed
Forgiveness is more than a generous heart, it's a practical matter in hardscrabble village life.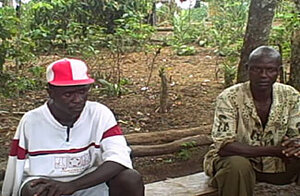 Jina Moore
GPAINGBANKORDU, Sierra Leone
Before the war, when his village and his family and his body were whole, Temba Kekura was a farmer. He had few things, simple things, the things he needed – land, crops, family, and two strong arms. Then he became part of a story that repeats, village after Sierra Leonean village.
The rebels came. They looted, burned houses, raped. They killed Mr. Kekura's mother, and when he refused to join the force, one of them cut off his right arm.
So now, he calls himself a gardener. He tends peppers and okra with a hoe. Proper crops – cassava, sweet potatoes, and rice – he leaves to men with two arms, or to their war widows.
Most days, his arm, that arm, hurts. "Whenever I feel pain, I just think bad things," he says about his life, about himself, but mostly about the man who left him this way. "My heart spoils."
So he has never talked about what happened; but his body tells a story everyone knows on sight. That story starts with Fallah Sakila.
Mr. Sakila is from a village just over the Liberian border, about a mile away. He was 20 when the Liberian rebel army, the Revolutionary United Front (RUF), kidnapped him and forced him to become a soldier. When the war in Liberia spilled into Sierra Leone, his unit tried to abduct Kekura, who resisted. Sakila was told to cut off Kekura's arm as punishment.
"The commander told me, 'Even you, you joined us by force. If you fail to take this order, we'll kill you right here,' " Sakila remembers. "So I said, 'My dear friend, forgive me.' And I took the hand, laid it on a stick, and I cut it off."
If Kekura remembers the "dear friend" part, he doesn't tell. What he will tell, for the first time, is the story that unites him with Sakila. Sakila has come to apologize, and Kekura says he will forgive. "When somebody kills your relatives and apologizes to you, [and] you forgive a person, there will be peace," Kekura says. "So I accept to forgive this man."
---