Cerebral maybe, but Scrabble's a sport in Senegal
The country produces top contestants in the Francophone World Championships, taking place in the country this week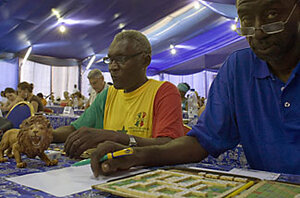 Normand Blouin/Reuters
To most casual observers of Scrabble, the game is a pastime. But in Senegal, typically better known for the Dakar Rally, it is a sport. And it's taken very seriously – especially this week, as the country plays host to the 37th Francophone Scrabble World Championships.
Mbaye Mboup, who presides over the Senegalese Scrabble Federation, is willing to concede that it is more of a "cerebral sport." But, he points out as he races from spot to spot keeping tabs on developments, Scrabble is "a competition that lasts two hours. You don't have time to move around, you don't have time to look anywhere. All you can do is concentrate.
"Afterward," he adds, "you're exhausted, like someone who ran kilometers."
His government agrees. Its Sports Ministry has provided key support for the high-profile tournament, which draws some 600 players from more than 20 countries across five continents. It ponied up nearly $130,000 for an enormous tent to house the main matches and gave its team warm-up suits with "Scrabble" written in letter tiles across the back. And, says a local sports journalist, President Abdoulaye Wade gave an audience to all the competitors – whom he addressed as "athletes."
Sport or not, the Senegalese are top contestants in Scrabble – a noteworthy achievement given the country's 40 percent literacy rate. In 2000, pairs team Ndonga Sylla and Arona Gaye became the first Africans to win a Scrabble world title. Since then, Mr. Sylla has won two more. At last year's championships in Canada, Senegal won three of the four top prizes.
---