Township youths tackle South Africa's 'white sport': rugby
In the black Johannesburg township of Diepsloot, one volunteer coach is teaching children the basics of rugby.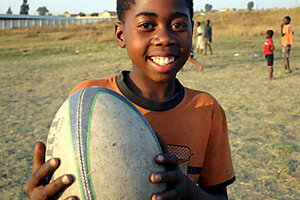 Scott Baldauf
The coach's whistle bleats, and the two young players, both 8 years old, square off and run full speed toward each other. One boy carries the oblong ball, juking to the left to avoid the inevitable crunch of a rugby tackle. When the defender brings down his man, a field of young enthusiasts cheer.
It's a scene replicated in nearly every town in South Africa, where rugby – a sport akin to football but without pads, forward passes, or TV time-outs – holds the same revered space as cricket holds in India and football in Texas. In nearly every town, that is, except for the black townships such as Diepsloot, where rugby is seen as a "white sport."
"I'm doing this because I'm tired of hearing that rugby is a white sport," says Bafana Thawuzeni, a Johannesburg fitness trainer and volunteer coach in Diepsloot. "Our country became free 14 years ago, so we should be equal. I'm doing this so that these kids have some exposure to all the sports in their country, not just the ones that blacks are supposed to be good at, like soccer."
Fourteen years after the fall of apartheid, a continued culture of separateness lingers in the realm of sports. Whites watch and play rugby, blacks watch and play soccer, and never the twain do meet.
While numerous South African politicians have vowed to "transform" sports in the country (a euphemism for racial integration) the athletic divide remains stubbornly entrenched by previous decades of racist laws and stereotyping.
More recently, the rift has been reinforced by economics and TV contracts, because soccer games are shown on regular TV and rugby is shown on cable TV or pay-per-view. This makes the task of idealists like Mr. Thawuzeni all the more difficult.
---