Pirates help fund Somali warlords
Gunmen hijacked four ship within 48 hours last week. Cash retrieved from ransoms is paying for weapons and salaries of fighters on both sides of Somalia's conflict.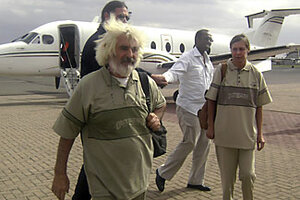 Reuters
Somalia's modern-day pirates are using their lucrative trade to fund fighters on both sides of the country's escalating conflict, according to a maritime expert in Kenya.
Four ships were seized by gunmen in 48 hours last week from the Gulf of Aden or along Somalia's southern coastline, making it the busiest ever period for the pirates who make the region one of the world's most dangerous for shipping.
Where once they might have used cutlasses and muskets, today's buccaneers use AK-47s and launch their attacks from speedboats.
The hijackings coincided with a violent week on the mainland. Islamists seized a key port and fighting raged in the capital Mogadishu, where two Western journalists were kidnapped.
Andrew Mwangura, of the Seafarers' Assistance Program, who monitors piracy from the Kenyan port of Mombasa, says cash raised from ransoms is being used to pay for weapons and salaries to keep war raging.
"The pirates are earning millions of dollars. A lot of that is invested in businesses in the United Arab Emirates and Kenya, but a lot is also funding the fighters on both sides – government officials, warlords, and Islamists are all getting their share," he said.
Danger on the seas
The waters around Somalia are among the most dangerous in the world for commercial shipping.
---