Zimbabwe: Latest test of Africa's power-sharing model
Zimbabwe follows Kenya's path. Will international donors be as supportive?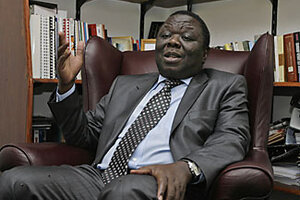 Tsvangirayi Mukwazhi/Ap
Johannesburg, South Africa
The power-sharing deal signed in Zimbabwe this week may seem nearly unworkable in a continent of one-party states and autocratic rulers. Within the week, talks to determine who will fill which cabinet ministry seat were broken off indefinitely, a sign that there is still much contention between the two sides. But Zimbabwe's coalition partners have a model to follow in Kenya, where a similar power-sharing arrangement was hammered out earlier this year.
"Kenya showed how African partnership can work," says Wafula Okumu, a senior researcher at the Institute for Security Studies in Tshwane (as Pretoria is now called), who has studied the Kenyan power-sharing government. "In Kenya, the continued presence and pressure of the international community was important. The international community, and particularly the African Union, invested heavily in Kenya to make sure that everything would work. They couldn't let it fail."
The same kind of sustained international pressure will be required to make Zimbabwe's power-sharing agreement work, Mr. Okumu says. But how much will the richer donor nations of the world be prepared to give Zimbabwe, when its government continues to have President Robert Mugabe as president?
---