The challenge of raising teens in AIDS-ravaged South Africa
Thabang Thimbela's foster parents struggle to guide him and his foster sister Bulelwa through the temptations of adolescence.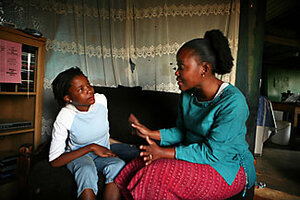 Melanie Stetson Freeman
On the way home from school, Thabang Thimbela stops off to visit his girlfriend, a few blocks from the tin shack where he and his foster parents and seven foster brothers and sisters live.
The teenager has never told his foster parents, Olga Thimbela and Pontsho Monamodi, about Lebo, but they know about her all the same.
They know she has a baby girl by another father. They know that Thabang's friends are urging him to have sex with her. And they worry that Thabang may some day suffer the same fate as his mother, who died of AIDS in June 2006.
Thabang says he's not ready to have sex with Lebo – and in any case she won't agree to it until he graduates from high school. But Thabang still says he has to hide his relationship from Olga and Pontsho. "They will shout at me," he says. "Eish, it's a problem, but I love that girl."
The Monamodis are a family brought together by AIDS, a scourge that has killed nearly 4 million South Africans in the past two decades. With four foster children from one deceased sister and two more children from a deceased aunt, Olga and Pontsho have stretched their meager resources to keep everyone fed, clothed, and in school. But as the older ones mature, the young parents are now struggling to prevent AIDS from reaching the next generation.
Raising teenagers, and guiding them to make good decisions about sex, can test parents in the best of circumstances. But the Monamodis are raising their teens in a country where an estimated 1 in 5 citizens is HIV positive, and where nearly 1,000 people die from AIDS each day. And they have the additional challenge of raising children who have recently lost the only authority figure they have ever known, their parents, to AIDS.
---