Oil capture spotlights Somali pirates' reach
A supertanker hijacking helped boost the price of oil early this week.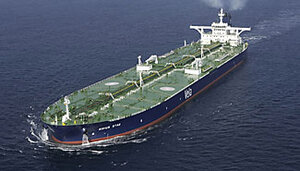 Daewoo Shipbuilding and Marine Engineering/Reuters
Johannesburg, South Africa
By hijacking a Saudi oil tanker – the largest ship ever taken – Somali pirates this week may have guaranteed their biggest ever haul of ransom.
The capture of the Sirius Star, which can carry more than one-fourth of Saudi Arabia's daily oil output, helped send prices above $58 a barrel. And the fact that it was nabbed 450 miles off Kenya's coast is a sign of growing sophistication and reach by the pirates, who have tended to stay closer to the Gulf of Aden, a pinch point for sea traffic routed through the Suez Canal.
The news also raises concern from some Western analysts that the pirates' spoils could help fund a growing Islamist insurgency in Somalia, although there is little evidence of that so far.
"What this attack represents is a fundamental shift in the pirates' ability to carry out attacks," said Lt.
Nathan Christensen, deputy spokesman for the US Navy's Fifth Fleet in Bahrain. It took place "almost double the distance [off shore from previous attacks]."
Somali pirates also hijacked a 26,000-ton Iranian cargo carrier on Tuesday, according to the US Navy.
Pirate gangs have certainly become more sophisticated, operating large "mother ships," often former Russian trawlers, which follow their targeted ship with GPS devices. When they are close enough, they offload smaller dinghies or speedboats that move in for the capture.
---