Abductions of Zimbabwe activists could ruin talks
Twenty activists from the Movement for Democratic Change opposition party have been abducted since October. Their whereabouts are still unknown.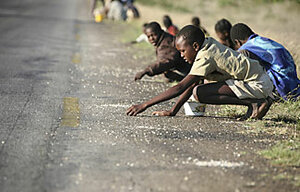 Tsvangirayi Mukwazhi/AP
JOHANNESBURG, South AFrica; and HARARE, Zimbabwe
Zimbabwe's chances of resolving its eight-month-long political stalemate and patching together a power-sharing government seems to be in jeopardy after a spate of armed abductions of key opposition and human rights activists.
Twenty activists for the Movement for Democratic Change (MDC) opposition party and four activists for the Zimbabwe Peace Process human rights group have been abducted from their homes and businesses since October, in circumstances that mirror similar abductions of dozens of opposition members during national elections held last March.
Coming at a time when the MDC is under pressure to accept a power-sharing agreement with the long-ruling party of President Robert Mugabe, the ZANU-PF, these abductions have forced many MDC activists into hiding and prompted leading MDC leaders to allege a complete breakdown in trust with the ruling party.
"It puts the talks in jeopardy," says Tendai Biti, the MDC secretary general and a participant in negotiations with the ruling party.
He calls the abductions a "breach" of agreements signed between the two parties in September, when MDC and ZANU-PF agreed in principle to share power. "Zanu-PF has no respect for the documents that it signs," says Mr. Biti.
---