Mugabe claims power-sharing partners trying to oust him
Zimbabwe's peace process is near collapse, amid accusations of guerrilla training camps and abductions of opposition party members.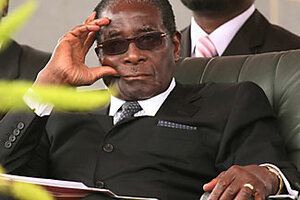 Tsvangirayi Mukwazhi/AP/File
JOHANNESBURG, South Africa
Three months after signing an agreement to share power with the main opposition parties, President Robert Mugabe has begun to accuse his putative partners of launching a guerrilla war to unseat him.
In parts of Mashonaland, where the opposition Movement for Democratic Change (MDC) made dramatic inroads among disaffected voters who had always voted for Mugabe's ZANU-PF party before, Zimbabwe police have rounded up 13 MDC members, on charges of trying to firebomb the homes of ZANU-PF members. Worryingly, police have not brought the accused MDC members to court to face formal charges, and police refuse to tell lawyers where the accused have been jailed.
Combined with Zimbabwe's stark, and unproven, charges that the neighboring state of Botswana is sponsoring training camps for overthrowing the Zimbabwe government, Zimbabwe's fretful peace process appears on the edge of collapse, with the possibility of an all-out crackdown, and, possibly, war.
"Let me state that the MDC is not conducting military training camps in Botswana or any other country as this would be contrary to the values and objectives of the MDC," said MDC leader and Zimbabwe's prime minister-designate Morgan Tsvangirai, in a statement released from his temporary home in Botswana.
He urged the 16-nation Southern African Development Community (SADC) to restart power-sharing talks in earnest. "I encourage SADC to become more actively involved in finding a solution to our crisis once and for all."
---