Pope visits Africa's growing flock
Pope Benedict XVI arrived Tuesday for his first visit as pope. The continent has seen a steady rise in religion, with Catholics making up one-fifth of the population.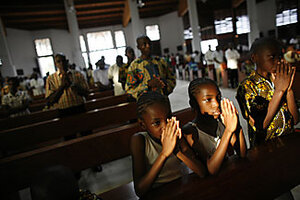 Rebecca Blackwell/AP
JOHANNESBURG, south africa
As Pope Benedict XVI makes his first trip to Africa as the head of the Roman Catholic Church, he will confront a phenomenon that can only be called a mystery.
Why is it that Africa – a continent of bloody conflicts, forced migration, rampant health problems, and profound poverty where as many as 800 million people suffer from chronic hunger – contains some of the most exuberantly religious people on earth? How do Africans find so much hope amid the hopelessness?
Unlike Europe and much of the Western world, where church membership seems to be on a constant decline, Africa is a kind of religious Klondike, where mainstream Christian churches, evangelical churches, and Muslim faiths all appear to be growing with no end in sight. The Catholic Church alone has 185 million members in Africa – 20 percent of the continent's population. In countries, like Angola, with a Catholic colonial past, Catholics make up 60 percent of the population.
"Africa has so little, but it has a strong spiritual sense that is often lacking in the Northern Hemisphere," says the Rev. Rodney Moss, head of the school of theology at St. Augustine College, South Africa's only Catholic university. "Those who have the least often are those who realize the deeper need for the grace of God."
---
Follow Stories Like This
Get the Monitor stories you care about delivered to your inbox.