Sudan bombs Darfur rebels – and civilians – amid calls for a 'no-fly' zone.
A Dutch journalist and photographer traveled with rebel forces in Darfur in February. They were pinned down by government forces for weeks, before escaping across the border into Chad.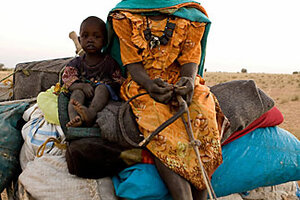 Jan-Joseph Stok
Ache Ali has lost four children and a husband.
A Sudanese cattle herder, she rides on a donkey cart with her youngest child, a daughter, wedged between hundreds of other fleeing Sudanese, herds of bleating goats, and other livestock.
"They [the children] ran away three days ago when our village, Buhera, was bombed." she calls out over the din, hoping for some help.
For weeks, she says that her family lived in fear, as the region was bombed day and night by Sudanese government aircraft. In early February, when this reporter caught up to her, she was fleeing her village. She is just one of the roughly 30,000 displaced Sudanese who has fled the region around Muhajirya in recent weeks.
Muhajirya is strategically located along a transit route in southern Darfur. It became the scene of intense fighting in mid-January. The Justice and Equality Movement (JEM) rebels captured the town after a fight with another militia, a Sudanese Liberation Army faction known as the SLA-Minni Minawi, which in 2006 had declared loyalty to the government.
To oust JEM, who are supported by neighboring Chad, from Muhajirya, the Sudanese government launched an offensive, sending in ground troops and bombing the area for about three weeks. Residents say most of the bombers were Russian-made Antonovs, but they also saw MiG fighter aircraft. About 10 villages were bombed and dozens of civilians were killed.
Hide the cattle
---