Rwandans: a reeducation in how to live together
The effort plays out in local courts as well as camps that teach the culture of a 'new' Rwanda.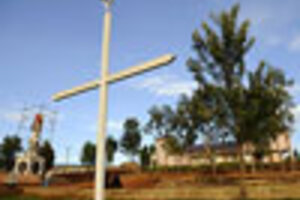 Mary Knox Merrill/Staff
Two years ago today, Christine Uwimana buried her family. She pulled their bones from one mass grave and brought them to another.
She remembered where the killers had left her family, because they had left her there, too. They shot her in the right shoulder and tossed her into a hole that felt 100 feet deep. She doesn't remember how she crawled out, or how she eluded the men with machetes still hunting her neighbors and friends. She doesn't remember anything, really, about how she survived the 1994 Rwandan genocide, when Hutu militiamen killed 800,000 of their Tutsi countrymen, but she remembers where she almost died.
"Because I was thrown in the hole," she says, "I was able to know where my family members were. Now, they are at Gisozi."
This is a mourner's shorthand. Gisozi is the neighborhood that houses the Kigali Genocide Memorial Center – a museum, frequented most often by foreigners, and a collection of mass graves, where survivors rebury their loved ones. To be at "Gisozi" is to be buried with intention – to share a coffin with other family members and to be laid to rest with ritual. To know where your family is buried, survivors say, is to know at least some peace.
That's no small thing here, where Rwandans this week are marking the 15th anniversary of the genocide. Since then, the country has seen political stability, thanks to the strict rule of Rwandan President Paul Kagame – and in spite of a lingering threat from thousands of armed Rwandan Hutus, many of whom have lived just over the border, in neighboring Democratic Republic of Congo, since the genocide ended.
---