A texting entrepreneur embodies spirit of a new Rwanda
Jeff Gasana's goal is to make his award-winning company the leading cellphone-banking service in East Africa.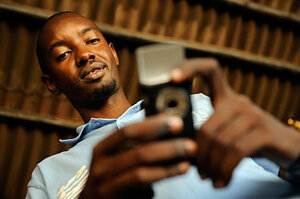 Mary Knox Merrill/The Christian Science Monitor
Jeff Gasana is a man on a texting mission.
The soft-spoken 20-something tycoon thumbs his sleek cellphone, firing off SMS messages to associates, his deadpan calm belying the ferocity of his drive for success.
His goal is to make SMS Media, the text-messaging firm he co-founded six years ago, the leading cellphone banking service in East Africa, where cellphone-to-cellphone finance is emerging as an enormous business opportunity.
In Rwanda, SMS Media is already an award-winning industry leader in allowing customers to purchase and activate prepaid amounts of electricity via cellphone. A full 40 percent of Rwandans now buy electricity using the company's services.
Mr. Gasana embodies the spirit of a new Rwanda. Just 15 years ago this week, Hutu extremists here began slaughtering Tutsis and moderate Hutus, killing more than 800,000 in less than 100 days, the worst ethnic killing since the Holocaust. The genocide tore apart the country's social fabric and institutions and destroyed its economy; Rwanda survived on emergency food aid until 2000. But the past few years have seen remarkable economic progress – skyrocketing Rwanda from a regional backwater to a can-do hub for technology and trade.
The Singapore of Africa
Now, Rwanda's butter-smooth roads are the envy of Africa, investors are pouring money in, and modern glass office buildings line the hills of the capital, Kigali, helping the country earn its status as the "Singapore of Africa."
---