Is Somalia in Ethiopian Army's crosshairs again?
Somalis near the border with Ethiopia say that country's troops have crossed over, raising speculation of another battle with the militant Islamists closing in on Somalia's government.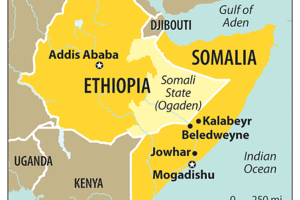 Rich Clabaugh/Staff
Johannesburg, South Africa
Two years ago, they came, they saw, they killed some Somali Islamists. Late last year, they left.
Now, the Ethiopians are back in Somalia, according to Somali witnesses, and their border incursion could have dramatic impacts on the stability not just of Somalia, but throughout the Horn of Africa.
For the record, the Ethiopian government denies that it has troops inside Somali territory, and claims it has largely stayed out of Somali territory since it pulled back its troops in mid-December 2008.
Yet reports from the area surrounding Beletweyne (near the border) have been persistent, both of Ethiopian checkpoints and entrenchments 20 kilometers inside the Somali border, near the town of Kalabeyr. Now, the question seems to be not whether Ethiopian troops are there, but why they are there and how long they plan to stay.
"Ethiopia does go in and out of Somali territory, but with reports of the impending collapse of the Somali government by Islamist militias, I gather that Ethiopia would keep a close eye on matters," says Iqbal Jhazbhay, an expert on Somali politics at the University of South Africa in Tshwane, formerly known as Pretoria. "An intervention now allows Ethiopia to follow their interests to insure that nobody comes to power who has an irredentist agenda, who would want to claim the Ogaden" region of Ethiopia.
---