Pirates, Inc.: Inside the booming Somali business
Meet the modern-day brigands behind the sometimes sophisticated, always risky operations that raked in an estimated $80 million in ransoms in 2008.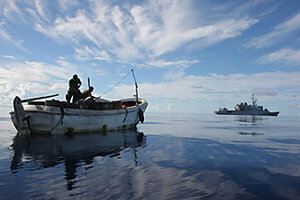 Pierre Verdy/AFP/Getty Images
On a blazing morning in early May, Hassan Abdullahi and eight other men got into their small, wooden boat – each armed with a Kalashnikov rifle, a grenade, and outsized hope. They pushed out from a village near Bossasso, a large port in the Puntland region of Somalia, into the gentle waters of the Gulf of Aden to seek their fortune. They would make their way west 250 miles along the Somali coast before turning north toward Yemen, where busy shipping lanes narrow near the Red Sea.
Their goal, shared by a Somali businessman living abroad who funded their weapons and boat, was to attack commercial ships and hold them for ransom.
Neither Hassan, a fisherman, nor his crew mates – who like most men in a nation of goatherds had no seafaring experience – had ever worked as pirates before, and this was their maiden voyage. Their motive was simple: money. Their method was as elementary: Attack the first ship they saw.
"I was just doing fishing for the past eight years, and I was doing fine, but I [saw] friends doing piracy and getting rich," says Hassan, the 20-year-old leader of the group. "I thought I'd give it a try."
---