Refugees fight to stay in one of South Africa's last, battered camps
Congolese and Somali migrants forced to flee their homes during last year's brutal anti-foreigner violence say it's too dangerous for them to leave the Blue Waters camp near Cape Town.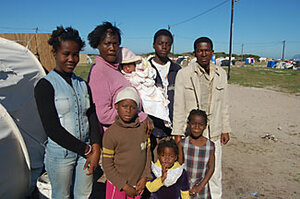 Ian Evans
In this tourist haven, arguably the most cosmopolitan city on the African continent, around 400 men, women, and children live in battered tents reliant on handouts – a legacy of last year's xenophobic violence that left 62 dead and forced more than 60,000 from their homes across South Africa.
A year ago, angry mobs targeted foreigners living in townships throughout the country with a brutal, two-week barrage of attacks. Most of the victims were immigrants who had fled poverty and calamity in neighboring countries such as Zimbabwe and Mozambique for the relative security and prosperity of South Africa, only to find themselves hated for "stealing" jobs from poor South Africans.
Initially, the government put those forced to flee their homes into temporary camps, which have gradually been closed as victims either go back to the townships or return to their native countries.
Now lawyers for Somali and Congolese refugees are staving off local government efforts to close one of the country's last remaining camps near Cape Town. It's still too dangerous to leave the Blue Waters camp and return to the townships, they say. And in the shadow of Table Mountain and the surfing beaches of the Cape Peninsula, residents recount stories of violence, rape, and concern about the future.
---