Niger Delta militants vow more attacks
Chevron has evacuated hundreds of employees from the oil-rich region of Nigeria after a string of attacks on oil pipelines.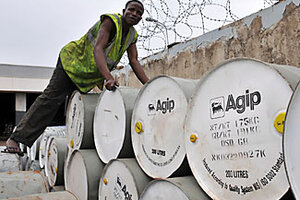 Afolabi Sotunde/Reuters
Johannesburg, South Africa
Nigeria's oil-rich Niger Delta – a major supplier of oil for US markets – is taking another turn toward violence.
Militants based in the Niger Delta have taken credit for a series of attacks against Shell and Chevron pipelines in recent days, prompting Chevron to evacuate hundreds of its employees from the region.
The most organized of these militant groups, the Movement for the Emancipation of the Niger Delta (MEND), has also threatened to expand its war from the delta into northern parts of Nigeria. That region is home to President Umaru Yar'Adua, whom they blame for not doing more to resolve the conflict as he promised during the 2006-2007 election campaign.
"It [the renewed violence] is happening simply because we want to negotiate from a position of strength," writes MEND spokesman Jomo Gbomo in an email to the Monitor. "The government has simply refused to address the root issues even in its so called amnesty offer, and it is about time we confront 50 years of beating about the bush head on."
Ripple effects of the conflict
Instability in the Niger Delta reverberates far beyond the territory of Nigeria. A recent attack on the presidential palace in neighboring Equatorial Guinea – another major oil producer in the Gulf of Guinea region – has been blamed on Niger Delta rebels.
Oil prices have a tendency to spike upward whenever political instability threatens an area where oil is produced or transported, whether it's in Iran, Iraq, Nigeria, and even the pirate-ridden coastline of Somalia.
---