Aid groups warn cholera could return in Zimbabwe
As the rainy season approaches, the root cause of last year's outbreak – a lack of clean water – is not being addressed by the government.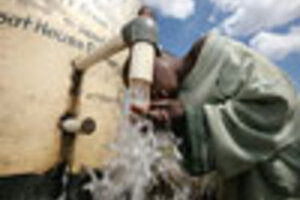 Tsvangirayi Mukwazhi/AP
Six months after an unprecedented cholera outbreak killed more than 4,000 in Zimbabwe and across its borders, a top medical aid organization warns that the water-borne disease is almost certain to return.
The root causes of the initial outbreak – including dilapidated drinking water systems and leaky sewage systems – have not been addressed adequately, said Rian van de Braak, head of mission in Zimbabwe for Medecins Sans Frontieres (Doctors Without Borders), on a visit to South Africa this week.
With the rainy season fast approaching, "everyone expects cholera to be back," says Ms. van de Braak, adding that major cities like Harare, Bulawayo, Gweru, Mutare, and Masvingo are the most prone areas, owing to their large populations.
"Dealing with the causes [of the initial outbreak] before the next rainy season will be a race against the clock," says van de Braak. "Nobody knows how big the next outbreak will be, but we are ready to respond immediately. We have the necessary stocks [of medical supplies] in the country and a contact list of all the extra 250 Zimbabwean staff who we recruited for the last outbreak."
---