Zuma says Zimbabwe making progress
The South African president said Zimbabwe's young national unity government is working, despite recent bickering over powersharing.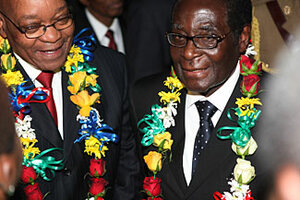 Tsvangirayi Mukwazhi/AP
After meeting with the members of Zimbabwe's coalition government, South African President Jacob Zuma yesterday said the six-month-old national unity government was functioning well.
In Zimbabwe on his first visit as president, Mr. Zuma said that despite complaints from all three principal signatories to a coalition agreement – the long-ruling President Robert Mugabe and his two chief rivals, Prime Minister Morgan Tsvangirai and Deputy Prime Minister Arthur Mutambara – the deal has given the country a welcome respite from months of political violence and economic collapse.
"There have been positive developments in Zimbabwe since the January 2009 SADC Extraordinary Summit," said Zuma, referring to the Southern African Development Community's final push to ensure that Mr. Mugabe and the opposition implemented the peace deal signed in September 2008. "The inclusive government is functioning and the joint monitoring and implementation committee is also progressing well.
"We are also encouraged by the consensus reached by the inclusive government parties on the need for national healing and reconciliation," he added.
Zuma's statements fell short of the "tougher" stance that African National Congress spokesmen had suggested the new South African president would take toward his counterpart Mugabe.
---