No $5 million Mo Ibrahim prize: no honest African leaders?
This year, cellphone magnate Mo Ibrahim won't be giving a $5 million prize for good governance. Why not?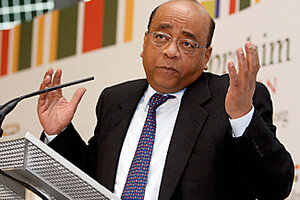 Kirsty Wigglesworth/AP
Johannesburg, South Africa
For the past two years, Sudanese-born cellphone magnate Mo Ibrahim has given out $5 million prizes to outstanding African presidents who had served their country with good sense, and then had the good sense to step aside when their terms were over.
Today, Mr. Ibrahim – the founder of the cellphone giant Celtel – announced that his team was unable to agree on a candidate for the $5 million prize this year, leaving many Africa watchers wondering if he had simply run out of good choices.
For the record, Ibrahim told reporters that "the prize committee could not select a winner," although there has been some speculation that Ibrahim simply lost too much money in the global meltdown last year to be handing out money now. Yet several observers note that the lack of a prize can be seen as a rebuke to African leaders at a time when African democracy seems to be sliding backward.
"Generally what we've observed in Africa, and this is worrying, is that leaders are massaging their constitutions and cooking elections in order to get elected," says Guillaume Lacaille, a Central Africa expert for the Nairobi office of the International Crisis Group, a Brussels-based think tank. "In general, a number of leaders have learned how to preserve the symbols of democracy without following the spirit of democracy, all in order to stay in power. So in a sense, for Mo Ibrahim not to give a prize this year might be a cry for change. We are seeing a trend that is very worrying."
---