Equatorial Guinea tests Obama vow to hold African leaders accountable
President Teodoro Obiang Nguema Mbasogo – who today pardoned British mercenary Simon Mann – is widely seen as one of Africa's most corrupt leaders. But will oil interests prevent a shift in US policy?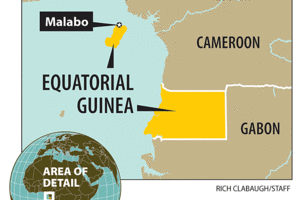 Rich Clabaugh/Staff
Malabo, Equatorial Guinea
At the United States Embassy in Malabo, the sweltering capital of this tiny West African nation, a picture of each former US ambassador hangs neatly on the wall.
But there is a jarring space where one photograph has been removed. The US closed its embassy in the oil-rich nation in 1995 in part to protest repeated human rights abuses and large-scale corruption.
The ambassador at the time departed the country abruptly, and only a nail is left to mark his time. Under the presidency of George W. Bush the embassy was reopened, and exports of Equatorial Guinean oil to the United States swelled to 100,000 barrels a day.
President Teodoro Obiang Nguema Mbasogo – who made world headlines today with his decision to pardon British mercenary Simon Mann on humanitarian grounds – is expected on Nov. 29 to win another election and a fresh mandate to lead sub-Saharan Africa's third-largest oil producer, which he has ruled since a 1979 coup. But Equatorial Guinea is consistently ranked near the top of the list of the most corrupt countries on the world's most corrupt continent. And rights advocates continue to heap fierce criticism on President Obiang for his government's alleged human rights abuses and draconian limits on free speech.
---