In Kenya, ICC Ocampo's arrival stokes new look at election violence
The International Criminal Court's prosecutor Luis Moreno-Ocampo arrived in Kenya to investigate the political leaders who perpetrated violence after Kenya's disputed elections in December 2007. Some 1,500 people were killed.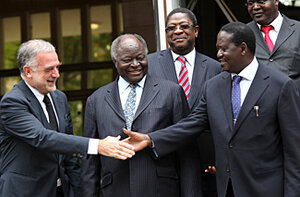 Thomas Mukoya/Reuters
Johannesburg; and Nairobi, Kenya
The arrival of Luis Moreno-Ocampo to Nairobi today, on paper, is no more than a quick meeting to set up other meetings. But for many Kenyans, Mr. Ocampo's arrival raises hopes that the victims of the 2008 post-election violence – apparently orchestrated by top Kenyan politicians – may finally see some form of justice.
The Argentinian prosecutor of the International Criminal Court in The Hague has his work cut out for him. Kenya's political class, having signed in early 2008 an agreement to prosecute the kingpins of the election violence in Kenya or formally request the ICC's intervention, has ended up doing neither.
In his meeting today with President Mwai Kibaki and Prime Minister Raila Odinga – the two rival leaders at the crux of the election dispute – Mr. Ocampo will make clear that the ICC will intervene, with or without the government's help.
So while Ocampo – famous for filing war-crimes charges against the sitting president of Sudan for the deliberate targeting of civilians in the Darfur conflict – will almost certainly not fly home with a planeload of Kenyan war criminals, many Kenyans see this as a turning point, where leaders who may have once killed with impunity realize that their actions have consequences.
---