Kenyans greet ICC's Ocampo as chance for justice that government won't take
International Criminal Court Prosecutor Luis Moreno-Ocampo, in Kenya, said he would ask the ICC to open an investigation into politically charged violence after disputed elections in 2007. Some 1,500 people were killed, and many Kenyans say it's time for politicians' impunity to be reversed.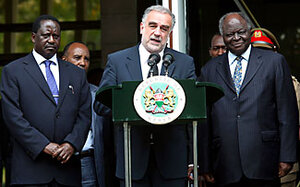 Thomas Mukoya/Reuters
It's been a busy week in Kenya. Torrential rains ended a months-long drought. A new Constitution was drafted. The world's fastest man, Usain Bolt, arrived to adopt the world's fastest mammal, a baby cheetah.
But in this news-mad nation, where even days-old newspapers are passed person to person and devoured front to back, there has been only one topic of conversation, with the whistle-stop visit of Luis Moreno-Ocampo, the flamboyant Argentine who is the International Criminal Court's chief prosecutor, dominating the front pages and the airwaves.
After Mr. Ocampo met Thursday with President Mwai Kibaki and Prime Minister Raila Odinga, he said he would ask the court's judges in The Hague formally to open an investigation into what he said were "crimes against humanity" carried out after the rigged 2007 elections.
As the three men met in the president's downtown Nairobi office, the Monitor canvassed Kenyans on Ocampo's promise to make an example of their homeland on ending impunity for the politically-charged killings following the 2007 election.
Remarkably, for a country recently ripped apart by that violence, which pitted tribe against tribe and left 1,500 people dead, many today spoke in similar voices.
---