International prosecution of senior Kenyan politicians for post-election violence looks inevitable
International Criminal Court prosecutor Luis Moreno-Ocampo left Kenya on Saturday saying he has a "strong case" against senior Kenyan politicians for stirring up post-election violence in 2007.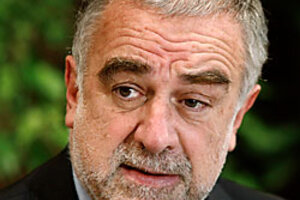 Thomas Mukoya/Reuters
That Kenya's top political leaders would attempt to protect their own people was inevitable, just as it was inevitable that such efforts would fail. With the departure of International Criminal Court (ICC) prosecutor Luis Moreno-Ocampo on Saturday it is clear that those Kenyan politicians deemed to be most responsible for whipping up communal violence after the contentious December 2007 elections will face their day in court, not at home in Kenya, but at the ICC in The Hague.
Kenyan Prime Minister Raila Odinga told reporters on Saturday that his government could not officially refer the post-election violence cases to the ICC because "it is only when a legal system has failed that direct referral is done." But other top cabinet members such as Mutula Kilonzo, the Justice Minister, say the Kenyan government will cooperate fully with the ICC's investigation and will hand over accused Kenyans for prosecution.
It's a delicate high-wire act for Kenya's leaders, who must appear to protect the interests of their supporters ahead of a new election in 2012 but also must cooperate with international authorities or risk prosecution themselves. Failing to secure official Kenyan permission to proceed will now require Ocampo to seek permission from the ICC's own pre-trial chamber, which given the strength of the evidence in hand is expected to be approved quickly.
---