Germany arrests Congo rebel leaders
Two Rwandan Hutu rebel leaders were arrested by Germany, charged with directing war crimes. Could this mark a turning point in Congo conflict?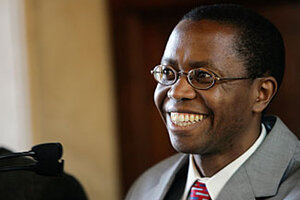 Andreas Solaro/AFP/Newscom/File
Some 4,000 miles away from the spiral of violence in Eastern Democratic Republic of Congo (DRC), the simultaneous arrests of two key Rwandan Hutu rebel leaders in Germany could help bring the troubled region a step closer to peace.
The arrests are a major shift in German policy towards the Rwandan rebel group, represent an expansion of international war-crimes law, and put pressure on the US and France to arrest FDLR leaders residing there, say analysts.
Acting on an arrest warrant issued yesterday by German prosecutors, early Tuesday morning police in the sleepy southern German town of Karlsruhe arrested Ignace Murwanashyaka, president of the Democratic Forces for the Liberation of Rwanda (FDLR) on charges of war crimes and crimes against humanity committed in Eastern Congo, German prosecutors said in a statement. Mr. Murwanashyaka's deputy, Straton Musoni, was arrested simultaneously in the Stuttgart area on the same charges.
An economist in Germany
Originally from southern Rwanda, Murwanashyaka has been living in Germany since the late 1980s. After arriving on a study fellowship, he went on to gain a PhD in economics, marry a German woman, and successfully applied for political asylum in 2000.
In 2001, Murwanashyaka was elected head of the FLDR. Made up of a rump of hard-core genocidaires, who fled Rwanda for Eastern Congo in the wake of the 1994 genocide, the Hutu rebel group has been at the center of Congo's troubles for most of a decade.
---