World AIDS Day: South Africa to treat all HIV children
To mark World AIDS Day, South Africa's President Jacob Zuma announced a major policy shift, offering to provide treatment to all children diagnosed as HIV-positive.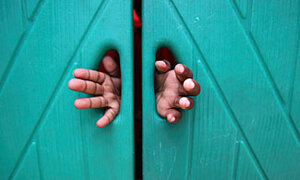 Denis Farrell/AP
South African President Jacob Zuma, during his World AIDS Day speech, announced that South Africa would provide treatment for all HIV-positive children, a dramatic step forward for a country with the world's highest rate of people diagnosed as HIV positive.
Mr. Zuma's pledge marks a departure from the policies of his predecessor, President Thabo Mbeki, who disputed the scientific evidence linking HIV with AIDS, and who actively discouraged the rollout of antiretroviral treatments to help AIDS patients live longer, more productive lives.
Speaking to an enthusiastic crowd in the nation's capital in Tshwane (Pretoria), Zuma compared the fight against AIDS with the struggle for freedom against the white-racist rule of apartheid.
"That time has now come in our struggle to overcome AIDS," Zuma said. "Let us declare now, as we declared then, that we shall not submit."
The battle against HIV in South Africa has become a deeply transformative one for this country. More than one out of every 10 South Africans, or 5.7 million of them, has been diagnosed with the virus, and more than 2.4 million children have been orphaned by the disease thus far. Researchers say HIV tends to strike those in their child-bearing years, the disease has had a powerful economic and social effect on families in South Africa, a country where nearly 40 percent of the population lives in poverty. When parents die, their children lose disciplinarians and role models. When breadwinners die, a society loses its most productive workers, and children are forced to live with grandmothers and extended families, many of whom are already struggling themselves to make ends meet.
---