Al Qaeda rises in West Africa
Umar Farouk Abdulmutallab – the terror suspect who allegedly tried to blow up a plane over Detroit on Christmas Day – hails from Nigeria in West Africa. The Monitor takes a look at how the fight against Al Qaeda is going in the region.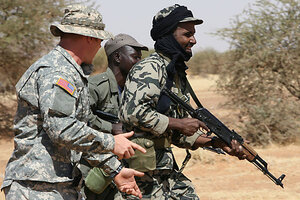 Luc Gnago/Reuters/File
At a remote training camp in northern Mali, US Army coun­terinsurgency specialists are teaching 160 Malian troops combat skills they can use to defend their country against attacks by Al Qaeda.
And they may have to call upon that training sooner rather than later.
A shadowy group called Al Qaeda in the Islamic Maghreb (AQIM) has busily set up shop in northern Mali, US military commanders and security experts say, passing easily through the porous borders of Mali, Algeria, Mauritania, and Niger to carry out kidnappings of foreign aid workers and tourists. AQIM also attacked a Malian military convoy in July, killing several troops, and was implicated in the assassination of a Malian military intelligence officer one week after killing a British tourist in a group it had been holding for nearly six months. (Four other hostages had been released; one was still held at press time.)
As one of the poorest countries in the world, with just a few thousand troops to patrol a vast territory the size of Texas and California put together, Mali has its work cut out for it. But despite the growing number of kidnappings and attacks, many Malians say the Al Qaeda threat is being overblown by both France and the United States. They worry that warning tourists not to visit could kill the economy in parts of the north and that a US troop presence could attract even more Al Qaeda attacks.
---