Islamic countries pledge $850 million to develop Darfur
The $850 million pledge for development projects in Sudan's troubled Darfur region comes out of a one-day donor conference of Islamic countries in Cairo Sunday, just one month after a significant Darfur peace agreement.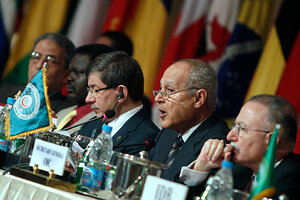 Amr Nabil/AP
Johannesburg, South Africa
A donors' conference composed mainly of Islamic countries has pledged some $850 million in reconstruction aid to help ease the suffering for the people of Sudan's war-ravaged Darfur region. But don't expect that this money will mean a quick end to the seven-year-long conflict.
The  conference in Cairo – led by Egypt and Turkey and attended by other representatives of the 57-member Organization of the Islamic Conference – comes just a month after a significant peace agreement was signed by the Sudanese government of President Omar Al-Bashir and one of Darfur's largest rebel groups, the Justice and Equality Movement (JEM). It was brokered by the government of Qatar.
The United Nations estimates that 300,000 Darfuris have been killed in the conflict, and up to 2.5 million more have been displaced from their homes. The conflict began in 2003, when local people took up arms to protest the neglect of their region by the Sudanese government in Khartoum.
---