Egypt, Sudan lock horns with lower Africa over control of Nile River
A colonial era agreement gives Egypt and Sudan rights over all water in the world's longest river. But a population boom in the Nile River's basin has other Africa countries clamoring for more access.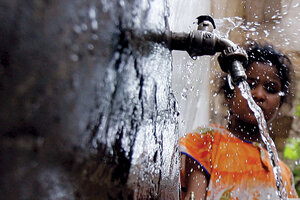 Abdallah Dalsh/Reuters
A war of words over control of the Nile has broken out between Egypt, which sees the river as its lifeblood, and countries upstream complaining they are denied a fair share of the river's water.
Presidents and officials from half a dozen countries have been crisscrossing Africa holding talks in the latest escalation of a decades-old dispute.
At its heart lies a 1929 accord, signed during Britain's colonial rule in Africa, which gives Egypt and Sudan rights over all the water in the world's longest river.
The Nile Waters Agreement, which still holds today, guarantees Egypt 55.5 billion cubic meters of the Nile's 84 billion total flow. Sudan gets the rest.
But the remotest headstream of the Nile rises 4,145 miles to the south, in Burundi's Ruvyironza River.
Its myriad tributaries drain a basin the size of the Amazon rainforest across 10 countries – the Democratic Republic of Congo, Tanzania, Burundi, Rwanda, Uganda, Kenya, Ethiopia, Eritrea, Sudan, and Egypt. Under the deal, and another reaffirming its principles in 1959, those last two have final say on projects affecting the Nile's flow. None of the others may tap into the river's bounty – for irrigation, for example – unless Cairo and Khartoum agree, and without that, upstream nations have struggled to access international finance to fund such projects.
---