Will foreign workers flocking to World Cup face xenophobic attacks?
With less than a week before the opening of the South Africa World Cup, an influx of foreigners in search of work has raised ethnic tensions. Some fear a repeat of the 2008 xenophobic riots that killed 67 foreign migrants.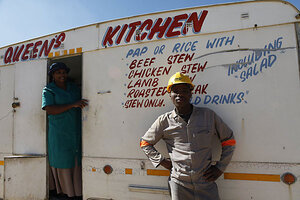 Melanie Stetson Freeman/Staff
Johannesburg, South Africa
Well before dawn every day, Phinius Mawira takes a crate of oranges, apples, bananas, peanuts, and other snacks to one of the busiest street corners in the township of Diepsloot, north of Johannesburg.
Customers are happy with his service, the Zimbabwean migrant says, because most other shops in the area don't open until well after most commuters have already left Diepsloot on minibus taxis for their jobs in Johannesburg. But some customers whisper the warning: "After the World Cup is over, you'd better run back to your country. People will come for you."
Those are words Mr. Mawira takes quite seriously, given the xenophobic riots of 2008 that killed 67 foreign migrants who were perceived to be taking South African jobs. Some 200,000 migrants took shelter in tent city camps before the South African government shut them down, often returning the migrants to the townships that expelled them with no attempt at reconciliation.
IN PICTURES: Ready for the World Cup
"We are all worried about that," says Mawira, who left Zimbabwe two years ago, after a national election failed to dislodge the long-ruling autocratic President Robert Mugabe. "Most of the people here think that we foreigners take their jobs. But this is just my business." He stares a bit and says, "People talk about what happened in 2008, and me, I'm a Zimbabwean. I'm alone here. I'm worried."
---
Follow Stories Like This
Get the Monitor stories you care about delivered to your inbox.