On eve of World Cup, South Africa's 'toilet wars' reveal volatile politics
Ahead of the South Africa World Cup, Cape Town has been gripped by its 'toilet wars.' After an opposition party erected shacks for the open air toilets in a shantytown, supports of the governing African National Congress tore them down, and did not replace them.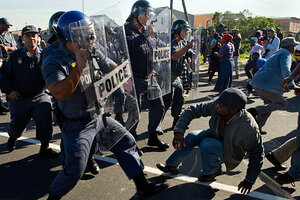 Rodger Bosch/AFP
Johannesburg, South Africa
It is unlikely that the tens of thousands of foreign tourists flooding into South Africa for the World Cup, will take time to look into a rather embarrassing political dispute called "the toilet wars."
The dispute surrounds an effort by the city of Cape Town to provide toilets to the residents of Khayelitsha, a township, on its outskirts.
For decades, the residents of Khayelitsha have lived in tin shacks without proper sanitation, a situation that the ruling African National Congress promised to correct when it came to power in 1994.
But it took no action and last year, the opposition Democratic Alliance (DA) started putting toilets and plumbing next to each shack, with the understanding that the locals would build enclosures around them. About 7 percent of the locals either never bothered to or couldn't afford to build enclosures in the interim, and the DA-led local government eventually erected cheap tin shacks around the remainder of the toilets.
The members of the ANC's Youth League promptly tore the toilet shacks down, arguing they were insufficient and an insult to the residents, though they did not replace them.
The notion that toilets would become a matter of a rather violent struggle between two parties that fought on the same side against apartheid shows that politics in South Africa has taken a turn for the worse.
---