Conspiracy theories rife in wake of Kenya bomb blasts
Kenya analysts say Sunday's Kenya bomb blasts are an attempt to rile the political environment ahead of a referendum on a new draft constitution. Conspiracy theories abound.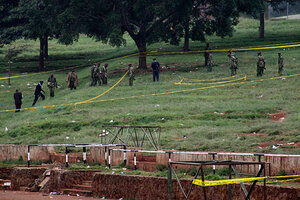 Sayyid Azim/AP
The first salvoes appear to have been fired in a campaign to intimidate Kenyans from voting on a new constitution.
Two explosions at a church rally Sunday killed six people and injured more than 100, leaving police officers scouring central Nairobi's Uhuru Park on Monday for clues. No one has claimed responsibility for the Kenya bomb blasts, but there were quick allegations and conspiracies bordering on the bizarre.
Constitutional reform supporters blamed opponents; opponents blamed supporters; church leaders blamed the government; a government minister blamed the president and prime minister; and analysts blamed those who most want to keep the status quo.
"I suspect instead that this is an agent provocateur action designed to set up a scenario where people might be afraid to vote. It was clearly not intended to be a massacre. It's a scare tactic," says Mwalimu Mati, director of anti-corruption watchdog Mars Group Kenya.
The concern is that Sunday's attack will not be the last. "Of course there can be more," adds Mr. Mati.
Christian church leaders, who had organized the rally to bolster opposition to a new constitution that they say eases laws on abortion and Islamic courts, were among the first to point fingers.
"Having been informed over and over that the passage of the new constitution during the referendum is a government project, we are left in no doubt that the government, either directly or indirectly, had a hand in this attack," the National Council of Churches of Kenya (NCCK) said in a statement with 14 other church organizations.
"Who else in this country holds explosive devices?"
Was it the Yes's or the No's?
---