Why Pakistanis have been detained for Al Shabab's Uganda bombings
Several Pakistanis are among those detained in connection with Al Shabab's Uganda bombings during the World Cup final on July 11. The Al Qaeda-linked Somali group claimed responsibility for its first terrorist attack outside Somalia.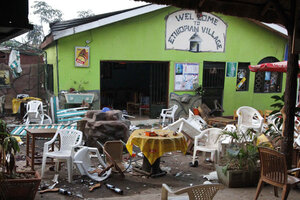 Marc Hofer/AP Photo
A week after Al Shabab's Uganda bombings that killed 76 people watching the soccer World Cup final, Ugandan police released reconstructed pictures of two suspected suicide bombers and said that "more than 20" people have been detained in connection with the investigations, including several Pakistani nationals working in Uganda.
Last week Sheikh Mukhtar Abdirahman Abu-Zubeyr, spiritual leader of Somalia's Al Qaeda-linked Islamist group, Al Shabab, reportedly claimed responsibility for the blasts in a recorded message. Mr. Abu-Zubeyr said that the attacks had been carried out by members of the Saleh Ali Saleh Nabhan martyr brigade, named after a suspected Islamist leader killed by the US in Somalia last year, in revenge for the indiscriminate shelling of Somali civilians by Ugandan peacekeepers in the country.
Ugandan police chief Kale Kayihura said in a press conference Sunday that there is now "very, very strong evidence," including the unclaimed and unidentified remains of two men found at the blast sites, to suggest that the attacks had been carried out by suicide bombers.
Reconstructed images of suicide bombers
Investigators have reconstructed images of the suspected bombers from the unclaimed heads of the two men, one "definitely Somali looking" and the other a black African "with characteristics not typical of Somalis," found at the sites, Mr. Kayihura said. The images have been released by Interpol in an international effort to identify the suspects.
---