Tanzania takes the edge off an old Black Panther
After 38 years in the bush of Tanzania, former Black Panther leader Pete O'Neal has shed his belligerent revolutionary fervor and today spends his time working with disadvantaged African children.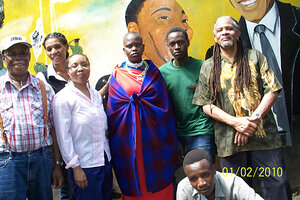 Courtesy of Peter O'Neal
On Pete O'Neal's bookshelf, in his tin-roof bungalow in the Mount Kilimanjaro region of Tanzania, is a collection of Lonely Planet travel books to Australia, Southeast Asia, Brazil, and other countries. He looks at the tomes wistfully: as an exile in East Africa for the past 38 years, he's never been to any of these places.
Mr. O'Neal was the founder and leader of the Kansas City chapter of the Black Panther party, and cannot return to the United States without facing a prison sentence for a federal gun conviction. The fake passport that he once used to travel the world has expired, virtually trapping him in this country.
But after nearly four decades in the bush, O'Neal has since shed his belligerent revolutionary fervor.
In lieu of political posturing, he now spends his time reading to orphans, teaching local youth, and running an exchange program for disadvantaged African American children. His neighbors call him "Mzee," or Elder.
He was charged in 1969 with transporting a gun across state lines – an accusation he denies – and faced up to 15 years in US prison. Instead, he jumped bail in January 1970 and fled with his wife Charlotte on fake passports to Sweden.
---