Why Africa's young thinkers are headed to prestigious US colleges
One academy is helping talented young Africans go to colleges like Harvard with the hope that the students will return to help drive Africa's political and economic development.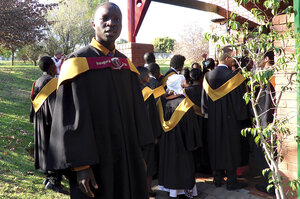 Kyle G. Brown
Johannesburg, South Africa
Among the students at America's prestigious colleges this fall are young Africans who have had a hand in changing national legislation in Kenya, synthesizing fuel from natural waste, and building a windmill to generate electricity in Malawi.
They're the first graduates of the African Leadership Academy (ALA) in Johannesburg, which has drawn students from more than 30 African nations and sent its graduates to study all over Europe and North America – all with an eye, ultimately, to bolstering the ranks of professionals who can drive Africa's political and economic development.
For 19-year-old Joseph Munyanbanza, the contrast could scarcely be greater between the crowded refugee camp in Uganda where he grew up and the rolling lawns framing the brick buildings in Johannesburg where he studied for the past two years as a member of the Academy's first class of some 100 students.
At age 6, he fled to the camp with his older brother to escape civil war in the Democratic Republic of Congo – then Zaire – eventually reuniting with his parents. He had no shoes, and read by a fire at night to augment his makeshift studies.
Mr. Munyanbanza says the two primary schools in the camp were ill-equipped, and the teachers underpaid and unmotivated. So he tutored younger children and obtained funding to build a primary school. "The success created another big problem," he says, "because they wanted to go to high school – but there wasn't one in the camp."
---