Congo: UN scrambles to better protect civilians in wake of mass rape
The UN's largest peacekeeping force failed to prevent mass rape by Congo rebels in July. Now it's pushing to be more proactive – and more innovative – in its mission to protect civilians.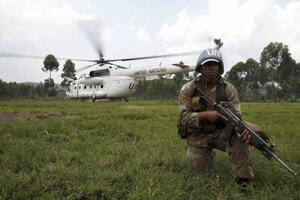 Katrina Manson/Reuters
A woman working alone on her farm in a remote corner of eastern Congo is usually a worrisome sight. It's there, among her beans and potatoes, sorghum, cassava, or cabbage, that she is especially vulnerable to robbery, abduction, and rape – crimes committed throughout Congo's nearly 15 years of crippling violence.
"When we see lots of people in the fields, especially lots of women, and lots of people walking, it's a good sign," says Maj. Satyender Singh, a commander for the world's largest United Nations peacekeeping force, known by its acronym, MONUSCO.
"When we don't, then we at MONUSCO get very, very worried," says Singh during one of his battalion's regular farm patrols outside his base in Rugari, a rough, 90-minute drive from the regional capital, Goma.
After being lambasted for failing to prevent the mass rape of more than 300 women, girls, and boys in a July rebel rampage near the town of Luvungi, MONUSCO has been scrambling to find more innovative ways to fulfill its mandate of protecting civilians.
Regular 'farm patrols'
It has renewed its focus on regular farm patrols along with a range of other proactive measures, such as escorts for civilians on market days, temporary teams of UN staff deployed to assess security and make protection recommendations in especially dangerous areas, and regular meetings between peacekeepers and community leaders. Peacekeepers are even passing out UN base phone numbers to locals, as Singh did often during his patrol.
---