Death squads reemerge in Ivory Coast as president contests election results
So-called 'death squads' have reappeared in the Ivory Coast, terrorizing neighborhoods that voted for Alassane Ouattara over incumbent President Laurent Gbagbo.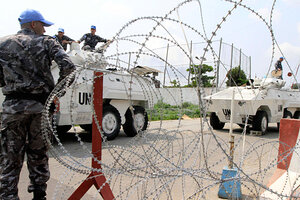 Thierry Gouegnon/Reuters
When the truckloads of heavily armed and masked men arrive, the women in this Abidjan neighborhood descend into the streets banging pots and pans.
It's a community organized alarm system – often accompanied by barriers at either end of the block manned by local teenagers – that is part of a desperate attempt to protect residents against the reemergence of death squads since the Ivory Coast's disputed Nov. 28 election.
People are terrified in neighborhoods that voted for Alassane Ouattara, the man the international community is recognizing as the legitimate president of Ivory Coast. No one knows exactly how many people have disappeared in the nighttime raids, but local United Nations chief Choi Young-jin estimated at least 50 since Dec. 16, when police opened fire on pro-Ouattara demonstrators, killing between 10 and 30 people.
The government is still controlled by incumbent President Laurent Gbagbo, who has also claimed victory in the election. He denies any knowledge of the nighttime attacks, but security forces loyal to the man who refuses to relinquish power have been preventing UN investigation teams from getting to crime scenes and talking to witnesses.
---