Ghana begins to tap oil, but can it avoid the 'resource curse'?
Long known as one of Africa's most stable nations, Ghana began pumping oil last week. But a recent visit to the oil boom town of Takoradi reveals a host of concerns.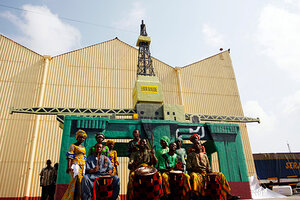 Hereward Holland/Reuters
While politicians in Ghana's capital, Accra, toasted the birth of the West African nation's oil sector last week, disquiet grew in the booming coastal oil town of Takoradi.
"We are all suffering. All the fish, all the tuna, gather around the light on the oil-rig at night and stay there during the day. The government has to compensate us," says Joseph Tetteh Narh, explaining that the mile-wide no-go area surrounding the offshore oil rig that began pumping just last week has cut local fishermen's catch by two thirds.
As Ghanaians flock to Takoradi to profit from the expected oil boom, residents claim rent prices have quadrupled and landlords are forcibly evicting tenants. Traffic now clogs the streets, slums are swelling, hospitals are swamped, unemployment and drug use are on the rise, and commercial sex workers swarm downtown at night, says Donkris Mevuta, executive director of Friends of the Land, a local nongovernmental organization.
To make matters worse, oil production has brought just 600 jobs to the town so far, he says, underwhelming expectations.
Now local rulers are demanding a cut of oil revenues and transparency advocates are questioning whether the country is ready to avoid the type of corruption and instability that has crippled the progress of fellow West African oil producer, Nigeria.
"Politicians have left people expecting very high returns. The very limited space the people have for participation [in the oil industry] is a recipe for disappointment and conflict," says Mr. Mevuta. "Oil is a blessing, but the way we manage the environmental and social impacts will show whether it is a curse."
---