Robert Mugabe clamps down further in Zimbabwe
Zimbabwe's President Robert Mugabe is warily eyeing the recent uprisings in Tunisia and Egypt. Some analysts say those are prompting him to speed up elections and intensify an intimidation campaign against the opposition.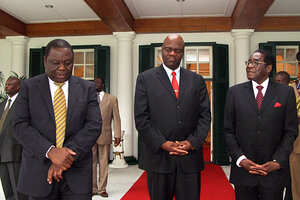 Tsvangirayi Mukwazhi/AP
In a normal country, preparations for an election look a bit like this: dozens of eager young activists put up posters, candidates meet with community leaders to seek their support, and middle-aged party members walk door-to-door to meet the voters.
In Zimbabwe, election season means violence.
For months, President Robert Mugabe's supporters in the military and the police have terrorized villagers in rural areas where many in 2008 supported opposition leader Morgan Tsvangirai and propelled him into the seat of prime minister.
And in the past few weeks, the violence has spread to urban areas with the seeming intent of intimidating those who would vote for Prime Minister Tsvangirai and his Movement for Democratic Change (MDC) party.
While such tactics long preceded the recent coup in Tunisia that instigated massive antigovernment demonstrations this week in Egypt, analysts say Zimbabwe's strongman president is taking note of North African events as he strengthens his grip. Indeed, President Mugabe, says political analyst Takura Zhangazha, may speed up plans for parliamentary elections to capitalize on a current wave of violence and voter intimidation – conditions he sees as favoring his party.
Mugabe loyalists seen behind unrest
---