Bombs mar Nigeria election, but fail to dampen voters' enthusiasm
Voters turned out in droves Saturday, despite a bomb blast late Friday that killed at least 8 people and injured more than two dozen, many of them young volunteer elections workers.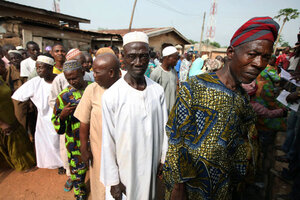 Sunday Alamba/AP
A deadly explosion at a polling station, a separate bomb blast at an electoral office on the eve of the vote, and other elections-related security incidents did not stop Nigerians from enthusiastically turning out in droves to vote in Saturday's parliamentary elections.
Across the country, voters lined up at some 120,000 polling stations and waited patiently to choose the future members of Nigeria's National Assembly -- government officials who earn salaries of more than $1million per year while the average Nigerian citizen scrapes by on less than two dollars per day.
Fears that voter turnout would be sharply down from last Saturday -- when the parliamentary vote was postponed midway through the day after ballot papers failed to arrive at stations across the country -- did not materialize.
After a series of flawed elections since the country abandoned miltary rule in 1999, Nigerians are optimistic, even confident, that this month's parliamentary, presidential, and state governorship polls will be different.
"It's a better [elections] process, we know it, and that's why we're out to vote," said Danjuma Bawa, a teacher in Jos, a city at the crossroads of the mostly Muslim north and the largely Christian south. "I didn't vote come out for the past two elections, but now that I know this election has been scrutinized, I know my vote will count this time."
Voting delays
---