Violence mars Goodluck Jonathan's win in Nigeria vote
Rioting broke out Monday after it became clear that Goodluck Jonathan had won the presidency, underscoring a deep regional divide between northern Muslim voters and southern Christians.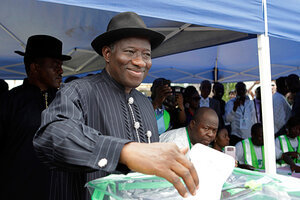 Joseph Penney/Reuters
On Saturday, Nigeria accomplished something that even four years ago seemed impossible: it held peaceful and legitimate elections.
Proving the skeptics and the fear-mongerers wrong, Nigerians marched to the polls and waited for hours in the blazing sun and stifling humidity to cast their ballots in the hotly contested presidential vote. But subsequent violence cast a shadow over Saturday's vote, which was widely praised as the fairest since the country abandoned military rule since 1999.
The vote pitted incumbent Goodluck Jonathan, a southern Christian from the oil-rich delta, against one-time military ruler and northerner Muhammadu Buhari. Mr. Buhari, who has staked his reputation on his sometimes brutal intolerance for corruption in a country rife with it, was strongly favored in the north, but Mr. Jonathan – who polled as high as 99.8 perfect in his home state of Bayelsa – took the victory.
The results of the vote indicate a deepening divide between the north and the south – one that President Jonathan, who rose to power when his predecessor died in office, may find difficult to bridge.
"All the northern states don't like Jonathan, that is the message clearly out," says Halima Ben Umar, a women's rights activist in the northern city of Kano who like many other northerners was dismayed when it became apparent Sunday night that Jonathan would win.
---